Hebron GBS Project Canada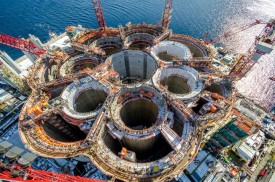 Wednesday 18 May 2016

13:44
The Hebron oil field is located offshore Newfoundland and Labrador in the Jeanne d'Arc Basin 350 kilometres southeast of St. John's.
The field was first discovered in 1980, and is estimated to contain 660-1055 million barrels of recoverable crude oil.
The Hebron field will be developed using a stand-alone concrete gravity based structure (GBS). The GBS will consist of a reinforced concrete structure designed to withstand sea ice, icebergs and meteorological and oceanographic conditions. It will be designed to store approximately 1.2 million barrels of crude oil. The Bull Arm Site is the primary construction site for the GBS.